Share on:
Strictly speaking, the glory of the city of Munich is held on 3 pillars: beer, BMW and football (soccer). Of course, there are lots of other wonderful attractions in the city, but still Oktoberfest, the famous automobile brand and the Bayern Munich football club are known in almost every corner of the planet.
Bayern Munich
If football in Germany is akin to religion, because it is worshipped by more than half of the country's population, then the Bayern Munich club is its God. For many decades they have been the most successful team in Germany, and one of the best in Europe and the world. When they win yet another trophy, which usually happens at least a couple of times a year, the parade n Munich honoring the team turns into a spontaneous folk festival which can last all night.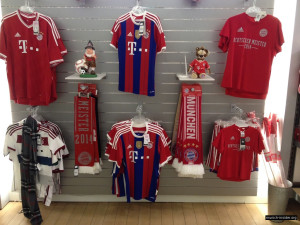 Bayers Munich's enormous financial earnings are due not only to the sports results, but also to skillful business activities. This is primarily the exploitation of the club's brand in the form of trade and advertising. Many tourists coming to Munich go, first of all, to the Bayern München fan shops which are as popular here as designer stores of the most famous fashion brands. Here you can buy tracksuits, T-shirts, bags, watches and many other items featuring the club's emblems. "Fan-Shop Bayern München" have several shops in Munich, including:
Neuhauser Str. 2
Säbener Straße
Stachus Passagen
Am Hofbräuhaus
Hauptbahnhof
Munich Airport
---
Allianz Arena
I belong to the category of fans who like to watch football on TV at home. It is comfortable in any weather, you can watch replays and listen to play-by-play and commentaries before and after the game as well as between the periods. So, in general there is a lot of pluses. However, when I was offered the tickets for the Bundesliga game between Bayern Munich and Bayer Leverkusen at the Allianz Arena a couple of years ago, I did not hesitate paying €140 for 2 tickets.
We came to the stadium by subway, line U6, station Fröttmaning. In principle, one can drive a car there, the on-site parking is large and comfortable. However, it may take enormous amount of time to get out of there after the game. I have been near Allianz Arena several times before, and always admired its unusual design. On the Bayern match day, it is illumination bright red, as if a giant flying saucer. They say it can be seen even from the nearby Alps, from a distance of almost 80 km (50 miles).
The stadium is very comfortable for spectators, all seats are under the roof. The vast majority of fans wore red scarf and other Bayern Munich attributes. Bayer Leverkusen scarfs, which were encountered only occasionally, were somewhat similar in colors, but were nevertheless standing out by their design. BTW, I did not notice any skirmishes between the fans of the opposing teams before, during or after the game. There were many women and children in the stands, so one can assume that a safe and secure environment is the norm here. Of course, there was no shortage of beer at the stadium , as everywhere in Munich. The game was interesting; Bayern Munich won rather confidently, 2:0. The fans were happy and left the stadium in good spirit. We were also pleased by watching high-quality football at such a great venue as Allianz Arena.
Is it realistic to get to a Bayern Munich home game?
Well, I have to disappoint those of you who wonder how and where one can buy tickets for Bayern Munich's home games. The answer is simple – they are all gone long ago, as is the case every year. Okay, there are a few very remote possibilities that you may get the tickets. First, it is possible to buy tickets online from viagogo where season ticket holders sell their tickets if they cannot go to a game. Even if you are so lucky that the tickets you want are offered, expect to dig deep into your pocket. Second, if you are feeling extremely lucky, you may also try to get a ticket for almost a nominal price. Just check the official club website (fcbyern.de) and find the secondary market ticket offers (My FCB → Ticketing → Ticket-Zweitmarkt). Usually, these are last-minute deals, even on the game day. You need to register online, but it is free. Third, search for hotel packages that include Bayern Munich tickets. Sometimes (infrequently…) such are offered by major international hotel chains. And the very last chance to get a ticket is the black market near the Fröttmaning U-Bahn station before the game. For the optimists, here is the Bayern Munich home game schedule for the 2018-2019 season:
Search the Internet for the Champions League schedule as well as German Cup games.
Share on: