Share on:
From Munich by Train to Other European Destinations: Salzburg, Vienna, Prague, Venice, Paris
Traveling through Europe by car is, of course, fun. Yet in many cases, the train is preferable. You can save time, money, and often nerves. Deutsche Bahn (German Railways) operates local or regional trains (RE, RB, etc.) as well as long-distance high-speed trains (IC, ICE, EC). The latter include trains to neighboring countries. In general, fares depend on the distance the train travels. For example, a trip from Munich to Frankfurt, about 400 km (250 mi), costs about €100, while a ticket to Hamburg, about 800 km (500 mi), costs about €150. Substantial discounts (Angebote) are offered for advance (more than 3 days) purchases. Very popular are deeply discounted weekend tickets (Schönes-Wochenende-Ticket) and Länder-Tickets (for example, Bayern Ticket). A Länder-Ticket usually costs under €50 and allows travel (on regional trains only) within one or two federal states for 1 to 5 people. Moreover, such tickets include unlimited free travel on public transit (S-Bahn, U-Bahn, busses and trams) within the area of the ticket validity.
Bayern Ticket (Bavaria Ticket)
The Bayern Ticket is very convenient for travel within Bavaria as well to near-border cities in the neighboring German federal states and even Austria. With this ticket one can ride all day on regional trains (RB, RE) to such destinations as Nuremberg, Ulm or Austrian Salzburg. It is also valid for travel on U-Bahn, S-Bahn, trams and city busses. On weekdays, it is valid from 9 am to 3 am (next morning), while on weekends and holidays it is valid from midnight till 3 am on the following morning. The Bayern Ticket costs €23 for one person, €28 for two, €33 for three, €38 for four and € 43 for five people. Any number of children under 15 years old can ride free of charge (with a paying parent or grandparent). It is cheaper to buy tickets online or from vending machines at the station; there is a €2 service surcharge at the ticket office. The name of one of the passengers must be written on the ticket; you can do this yourself, but before inspection on the train. BTW ticket inspections are frequent. It is not uncommon to be asked to produce your ticket several times during a single journey.
Schönes-Wochenende-Ticket (Weekend Ticket)
On weekends, an alternative to the Bayern Ticket can be the Schönes-Wochenende-Ticket. It allows unlimited travel all over Germany on Saturday or Sunday (from midnight till 3 am next morning). The price is €40 for one person; add €4 for each additional passenger (up to 5 persons maximum). It is also free to bring along children up to 14 years old. Again, the Schönes-Wochenende-Ticket is valid for regional trains only. This somewhat limits its use for long-distance travel because regional trains usually have a range of up to 200 km. In principle, it is possible to travel on regional trains, for example, from Munich to Berlin or Hamburg, but that would require quite a few transfers. Nevertheless, there are people who travel this way across the country and find it fun.
Europe by Train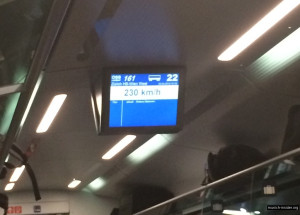 As a rule, long-distance rail travel in Europe is a relatively expensive pleasure. Driving a car may have an advantage in this regard, especially for groups of more than two people. Still, many choose the train: it is comfortable and (almost) always on time. In addition, Deutsche Bahn often offers good discounts (Angebote), in particular when purchasing tickets in advance. For example, the distance between Munich and Paris is over 800 km (500 mi), so a trip by car may take about 10 hours (if there are minor traffic delays on the route). Of course, one can fly there, but a plane ticket would cost over €200 and you also have to take into account the time (and money) spent on the road to and from the airports. On the other hand, there is a direct train which covers the distance in just 6 hours (from downtown to downtown!); its schedule is very convenient – the train leaves Munich early in the morning and leaves Paris in the evening. When booking at least 3 days prior to departure, a return ticket costs less than €200. Thus, a convenient option is to leave Munich on Saturday morning, stay overnight in Paris, and then return to Munich late on Sunday. Similarly, one can plan a trip to Venice. The distance is about 600 km (370 mi). However, you won't be able to drive a car into the historical center of the city anyway, so a train option is worth considering. A direct train from Munich to Venice arrives to the Santa Lucia train station, which is within a walking distance to all the attractions. The travel time is a little more than 6 hours. A roundtrip ticket bought in advance costs around €150. Even faster and cheaper is to travel by train to Prague or Vienna. However, a car option may still be less expensive for several people traveling together, provided that you have got a good car rental price. In short, traveling by train is a reasonable option for a comfortable journey from Munich to other European destinations.
Final notes:
Sometimes, overnight trains are worth considering, especially for long journeys. Firstly, you do not lose a day sitting on the train. Secondly, you save a night stay in a hotel. Thirdly, many trains have sleeping cars, though they are more expensive.
Even if your journey does not start in Munich, but you are coming to Germany from a neighboring country, you still can book the tickets on the Deutsche Bahn website. I personally booked train tickets from Vienna and Paris, and found the DB website more user-friendly and easier to navigate than the corresponding ÖBB and SNCF sites (at least their English versions).
Share on: