Share on:
Munich-Nuremberg return: ~ 340 km, 3 hours 15 minutes
Duration: ~ 7 hours
Recommended time for the trip: afternoon
What to see: market place, medieval fortress, Albrecht Durer museum, Toy museum, Weißgerbergasse, Kettensteg, Maxbrücke, Henkersteg, Trödelmarkt, shopping district, Mauthalle
We really enjoyed our trip to Nuremberg, the second largest city in Bavaria. In addition to the medieval atmosphere, it is famous for Lebkuchen (gingerbread) and grilled sausages. The Nuremberg's old town is perfect for a short walk, especially in good weather.
The road from Munich
We started from Munich after lunch, around 1 o'clock. While driving on the A9 autobahn, before actually leaving the city we saw an unusual structure resembling a huge pillow or tire. It was
Allianz Arena
, the famous soccer stadium where
Bayern Munich
plays home games. The stadium building is beautiful, and on the game night it glows shiny red. Further along the way, strange high posts with nets on top uniformly spread in the fields, attracted out attention. Later, we learned that these were the hops fields. Moreover, there is the German Museum of Hops (Deutsches Hopfenmuseum) nearby. If we knew in advance, then we could have stopped for beer.
The road to Nuremberg took a little over hour-and-a-half. It was Sunday and we easily found a spot to park our car in the downtown near the Lorenzer Platz. On a weekday, it is better to park your car in the Maxtorhof Parkhouse (Maxfeldstraße 5), it is inexpensive and there are always free spots.
The city and its attractions
We decided first to go uphill to the old fortress called Burg. It is a symbol of the city and is visible from almost everywhere. Walking through the medieval streets, we made one observation. All roads and sidewalks in the downtown are paved with cobblestones. So, high-heeled shoes are not recommended here.
On the way to the fortress, we passed a large market square (Hauptmarkt), which often hosts traditional fairs, such as the famous Nuremberg's Christmas market. Around the square, you can see old churches and a beautiful fountain, which is its actual name in German – Der Schöne Brunnen.
So, moving along the narrow streets of the old city, we reached the fortress. A beautiful view of the city opened from the top and we took a couple of photos. We decided not to go into the fortress itself, because we were not sure if there was anything special to see there. We were also somewhat hungry and thirsty for beer. We noticed a lovely small cafe called Burgwächter and got in it. The cafe interior was rather cozy, it was stylized as if in the Middle Ages. We ordered beer and Nuremberg sausages with potato salad. We felt so comfortable that I must confess that we did not want to leave.
However, we had to continue exploring the city.
We headed down back to the city center and soon found ourselves on the square called Tiergärtner Tor. Its medieval beauty really impressed us. The square is surrounded by half-timbered houses, the sound of medieval music was coming from somewhere – a very pretty place. BTW there is also a couple of restaurants with a good view of the square.
The famous museum of Albrecht Dürer (Albrecht-Dürer-Haus) is on this square. It is located in the house, in which the artist lived and worked.

Albrecht-Dürer-Haus address: Albrecht-Dürer-Straße 39. Open: Mon-Wed, Fri 10 am – 5 pm; Thu10 am – 8 pm; Sat-Sun 10 am – 6 pm.

We really liked this museum. Inside the house, you feel as if somebody still lives in it. We spend about half an hour wandering from room to room, learning about the everyday life of the great early-Renaissance artist. It was indeed interesting. The museum staff advised us that there a famous toy museum nearby.
Toy museum address: Karlstraße 13-15. Open: Tue-Fri 10 am – 5 pm, Sat-Sun 10 am – 6 pm.

We went down a narrow street and in a couple of minutes reached the Toy museum. This museum is unusual and also very interesting. Toys made several centuries ago are on display there along with more modern ones.
Weissgerbergasse
After the museum we decided to walk around the old city. First, we went to one of the oldest streets in the city – Weißgerbergasse. The street is not very big and we strolled along its entire length in about three minutes. It was worth coming there, the majority of old houses in the street are well preserved or restored.
Troedelmarktinsel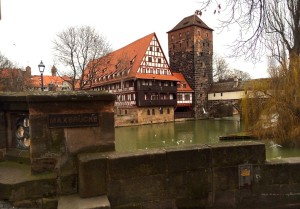 Next, we went to the river and crossed it on a suspension bridge called Kettensteg. Beautiful half-timbered houses are all around it. We decided to walk along the river and soon came upon another bridge, this time a wooden one called Henkersteg. We crossed the bridge to the Trödelmarktinsel island. We were somewhat amused to see a little house with a sign showing a hand with an axe. It turns out, it was an executioner's house; probably it is a museum now. We decided not to check this "attraction". At the next bridge (wow, there are so many of them in Nuremberg), we went back to the city center and hit the pedestrian area with shops and boutiques. We were all-male company, so we did not spent much time there.
We continued on and came to the medieval building of Customs (Mauthalle), which has an unusual six-story attic or loft. They say that such a building cannot be found anywhere else but in Nuremberg.
It was February and it got dark pretty quickly. The city at night lighting has become even more beautiful and we decided to stay for another hour and enjoy the Nuremberg at night.
Share on: