Share on:
© TVB Wilder Kaiser / Johannes Felsch
Trip duration: 1 day
Driving: 120 km (75 mi) ~1.5 hours one-way
Address for GPS navidator: Liftweg 1, 6364 Hof (SkiWelt Brixen im Thale)
What you need to know before you go: All occupants of the vehicle must have safety signal vests. It is also important not to forget the vignette for the toll highways in Austria. You can buy it at the border gas station.

Open map in a separate tab
Getting to Wilder Kaiser-Brixental from Munich
Ski resort Wilder Kaiser-Brixental is the largest in Austria. They have about a hundred ski lifts, no kidding. The resort is comfortable and moderately priced. In 2013, Wilder Kaiser was voted the best ski resort in Austria in the category "value for money". We heard mixed reviews about it, though more positive ones. Anyway, it is better to see everything with our own eyes. So, one early Saturday morning we jumped into the car and raced on the number 8 Autobahn toward the Austrian border. Having bought a vignette at the gas station, we continued on the Austrian toll freeway to Kufstein and farther to Wörgl. Then we took secondary road E641 towards Brixental / Brixen im Tahle and followed the GPS navigator to our destination. About 10 o'clock in the morning we were there.
Skiing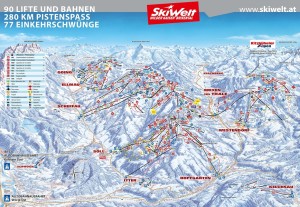 Even though SkiWelt Wilder Kaiser Brixental is the largest ski resort in area, the mountains here are not as high and slopes not as steep as, for example, in Sölden. The ski slopes are mostly of the blue and red categories. The altitude does not exceed 2000 meters (6600 feet). This has some advantage though – the temperature is almost always slightly higher here than in most other resorts which are located at higher altitudes. The mountain landscape here is as beautiful as everywhere in Austrian Tyrol, some say that even better. We can attest to that and we were really lucky with the weather, it was calm and clear. The whole resort is divided into 9 regions: Brixen im Thale, Ellmau, Going, Hopfgarten, Itter, Kelchsau, Scheffau Söll and Westendorf. We came to Brixen im Thale since we were advised that it was not very crowded. Indeed, the lines to the chairlifts were rather short. The entire infrastructure of the resort is thoroughly thought through. There are plenty of ski lifts with very comfortable chairs, both covered and open. A ticket for the lift (Skipass) costs 45 euros per person a day. For fans of speed, there are 8 fast downhill tracks. Then there are 3 tracks, where you can measure the time of your run. But that's not all. For those who want to watch themselves skiing, there is a trail with video recording.
There is also a slop for skiing at night.
Service and Après Ski
Service for tourists in Brixen is very good, there is everything one needs for sports and relaxation. As everywhere in ski resorts of this level, they have a ski school for both adults and children. There are also luge or toboggan tracks as well as trails for cross country skiing.
Après-ski at the resort is rather typical. There are lots of spas and restaurants, but they say that night partying here does not usually get out of control. We had nice dinner in a restaurant that served tasty Tyrolean cuisine with schnitzels and knödels. A glass of Glühwein (mulled wine) increased enjoyment of the meal. In general, after rather stress-free skiing one gets good après-ski relaxation. No wonder this resort is occupied mostly by respectable Germans and Dutch. We will certainly come here again.
Share on: