Share on:
» Hofbräuhaus
» Augustiner-Keller
» Löwenbräukeller
» Paulaner Bräuhaus
» Der Pschorr
» Spatenhaus an der Oper
Munich is one of the beer capitals of Europe. Maybe it is the main beer capital. The words "Munich" and "beer" are almost inseparable, such as, for example, "France" and "wine" or "Russia" and "vodka". The name "München" is translated from the ancient German as "Monks". European monks brewed beer and used it as high-calorie drink, especially when fasting. Therefore, it is probably right that Munich is considered an unofficial champion in brewing. The tradition of beer drinking in the Bavarian capital is a kind of cult. Five million liters of beer are consumed during Oktoberfest only; can you imagine the quantity for the entire year? One can lose count. 😉
Since long ago, there have been six major breweries in the city. They are now famous all over the world: Augustiner, Hacker-Pschorr, Hofbräu, Löwenbräu, Paulaner, and Spaten. Only they are allowed to supply their products for the Oktoberfest. All brands are great, though all taste differently. Of course, we have tried all the varieties of Munich beer. Also, in all the Munich's beer places, which we have visited, the environment was relaxed and comfortable. It is nice when you are served by the waiters in Bavarian national costumes. Beer halls are almost always filled to capacity, so we usually reserve tables in advance. In this article, we have tried to note both the similarities and originality of the famous Munich brasseries. The description of the place usually refers to our first visit there. The reason for this is two-fold. Firstly, the first impression is probably the strongest, and secondly, the tourists will unlikely visit the same place more than once anyway.
Hofbräuhaus
Address: Platzl 9
Hours: daily 9 am – 11:30 pm
Reservations: tel. +49 89 290 136 100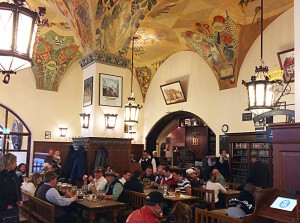 Actually, I am not a great beer expert. I cannot even say that I am a true beer lover. Well, I do drink beer from time to time, but in rather moderate amounts. However, I have to admit that the most memorable moment for me in Munich was when I first got into the Hofbräuhaus. I would even call this place a symbol of the city or its heart. Several thousand people do not just drink beer there, they are all in some kind of unity with each other. No wonder some famous as well as infamous leaders of the last century used to spend time here with people. Despite the huge halls and the daytime we could hardly find a free table on our first visit. Well, we succeeded eventually. The crowd of patrons was buzzing in different languages, and our company soon joined the chorus. Interestingly, you can still talk quietly and be heard, as if at home, without yelling and straining your voice cords.
Usually, in German brasseries, I order a large mug (0.5 liter, about 1 pint) of beer, and sometimes repeat the order in an hour. However in the Hofbräuhaus, beer is measured in "Masses". So, the minimum order is one Mass, which is a huge, 1-liter mug. The Hofbräu beer is superb, so maybe a one-liter mug is indeed what's needed to pour it in. (For some reason, during the first visit to the Hofbräuhaus I remembered the silly tale: "There should be only a brief break between the first and second … mug," said Hitler drinking beer with his cronies, and soon the Second World War started.) Well, it was here, in the Hofbräuhaus, that he established the Nazi party. Today, however, no one cares about this association. Everybody enjoys life, so much so that they even sing here sometimes. One can often listen to Bavarian musicians, who perform in their national costumes in the beer hall. We sat a couple of hours in the Hofbräuhaus, and did not even notice how the time passed.
Augustiner-Keller
Address: Arnulfstrasse 52
Hours: daily (beer garden 11:30 am – midnight, restaurant 10 am – 1 am, beer cellar 4 pm – 1 am)
Reservations: tel. +49 89 59 43 93
It is always better to drink cool beer. On hot days in the summer, it is so nice to sit outdoors with a glass of good Bavarian beer. The Germans have invented for this purpose a special place – Biergarten (beer garden). Simple long tables and benches under a broad canopy of chestnut trees – this is a typical beer garden in Munich. And what about the fall and winter? In the cold season, it is best to go down to the Keller (cellar) and enjoy a draft beer, as they say, from the source. In fact, it is here in the cellars the drink ferments at relatively low temperatures, and then beer is stored in large wooden barrels right here in the cellar. While I was writing this passage, I imagined myself sitting again in the Augustiner Keller and drinking my favorite beer.
They have a lovely beer garden right in front of the main entrance, a spacious restaurant on the ground floor, and of course the main attraction – the Augustiner Keller. We go very deep down the stairs, as if in a medieval fortress. The brick walls are three hundred years old. Wooden tables with benches fill the space. Germans and foreigners sit at the tables and drink beer, all very tranquil and peaceful. They talk loudly, sometimes they sing. Next to our table, there is a group of young guys wearing similar shirts; this is how the Germans celebrate a bachelor party before the wedding. It is a good German tradition to celebrate such parties in beer cellars. The guys have already drunk quite a lot and are having fun, but without excesses. The waiters are all in Bavarian national clothes, they serve quickly, competently and very friendly. All meals are typical German. I usually order white Bavarian sausages (Weisswurst) with beer; they are very good at the Augustiner. The Augustiner beer is particularly tasty here, in the Keller. Or maybe it is just the surroundings that so positively influence my mood. We are usually getting so relaxed here that do not want to leave. When finally we have to go, we decide that we will certainly come here again.
Löwenbräukeller
Address: Nymphenburgerstrasse 2
Hours: daily 10 am – midnight
Reservations: tel. +49 89 54 726 690
It was a warm summer evening when we came to the Löwenbräu Keller for the first time. Why this famous brasserie is called the Keller (cellar), is not quite clear. They also have a restaurant on the ground floor and a very large beer garden. In such a warm and pleasant evening, people want to sit only outside, in the open air. There was not a single empty seat in the beer garden, and it was buzzing like a disturbed beehive. We did not reserve a table in advance because our decision to have some beer was rather impulsive. We were almost about to leave empty-handed, when suddenly a group at one of the tables decided that they had enough. We wasted no time and occupied that table. I must say that we were really lucky, and the evening turned out to be very good. Firstly, next to the Löwenbräu is a very beautiful square with magnificence buildings arranged in a semicircle. Secondly, the architecture of the Löwenbräu Keller is also very interesting – its facade is a round tower with a conical peaked roof. And thirdly, the coziness and comfort of the beer garden is due to the fact that it is all covered with a broad canopy of trees, probably chestnut trees.
We had the first round of cool beer and all agreed that it was excellent, especially in such a warm weather. While waiting for the meal we had ordered for dinner, we had the second round of beer. The liter of beer somehow did not feel too much. Soon, the waiter fetched the food. Each of us ordered something what is recommended to go with the Löwenbräu beer, such as, traditional sausages, chicken wings or local potato knödels (boiled dumplings). During the meal, we ordered the third round of beer. It was a really pleasant night, with good food, nice beer and leisurely conversations. We talked about everything, someone remembered that Hitler was a frequent visitor here and gave speeches in the beer hall. Well, this drink has been worshiped by many in Germany, both the geniuses and villains. In general, after that evening we have learned the following: the Löwenbräu beer is tasty and a bit tart, the beer garden is very large and, at the same time, cozy with a very democratic atmosphere, the restaurant is good with typical German cuisine. I think these are perfect conditions to spend a wonderful evening in Munich.
Paulaner Bräuhaus
Address: Kapuzinerplatz 5
Hours: daily 10 am – midnight
Reservations: tel. +49 89 48 00 50
The Paulaner brewery has a four-century history. In the 15th century, a monastic order was founded by Saint Francis of Paola. The monks of the Order began to brew beer in Munich in the 17th century, hence the name of the company and its beer. By the way, it is St. Francis who is depicted on the company logo. The name sounds beautiful and is easy to remember, which, coupled with the excellent quality of the drink makes Paulaner famous worldwide. When we wanted to try this beer "Vom Fass" (draft), the question was – where exactly in Munich? In fact, there are three major brasseries belonging to Paulaner in the city: Paulaner im Tal is in the Old Town, Paulaner Bräuhaus is in the Ludwigsvorstadt-Isarvorstadt district and a beer hall at the main brewery is on the Nockherberg hill near Haidhausen. After some consideration we decided that it would be too touristy in the Old Town, while Nockherberg is a little too far away. Therefore, the Paulaner Bräuhaus on Kapuzinerstrasse was chosen for our first acquaintance with this beer brand. It is just a few steps from the
U-bahn
(subway) Götheplatz station.
The Paulaner Bräuhaus is located on the site of a pub which once belonged to another Munich's brewery, Thomas Bräu, which merged with Paulaner almost 100 years ago. And today, they continue to brew beer here in the backyard and serve it as "home brew." Actually, it is still the same Paulaner beer. We found the "home brew" in the «Aus den Sudhaus» section of the carte and ordered the first round. Super beer, I can't say anything else. It seemed a little sweet and tart at the same time, with a special pleasant flavor. The cuisine in the restaurant is typical German, including local Bavarian. It was May, the time of the year when various asparagus dishes (Spargelgerichte) are popular in Germany. We also started with Spargelcremesuppe, thick soup with asparagus and croutons, very delicious. Main courses here can suit every taste, (well, maybe not for a snobby gourmand) and the portions are large and mouth-watering. For example, I ordered a classic Wiener Schnitzel (veal cutlet) with fried potatoes; the dish maybe simple but always a winner. My buddies were more adventurous: one chose a steak, another – duck, and one even tried local fish (Saibling) from the Isar river. By the end of the night we were all satisfied: excellent beer, good local food, reasonable prices and friendly atmosphere – what else is needed to spend an evening in Munich?
Der Pschorr
Address: Viktualienmarkt 15
Hours: daily 10 am – midnight
Reservations: tel. 49 89 442 38 39 40
The combinations of the words "beer" and "restaurant" is suited precisely to this cozy establishment on Viktualienmarkt. This beer house occupies a beautifully decorated restaurant hall. Tables are arranged between the columns under the arched vaults, on different levels, and even on the balcony. My friends and I often come here in the evening and always reserve a table in advance. Usually, in the evenings it is filled to capacity. By the way, during the daytime it is not as crowded and, in principle, you can just drop by without an advance reservation.
Bavarian "heavenly" Hacker-Pschorr beer
So, why it is not just a pub, but a beer restaurant? A friend of mine has once quipped that it is because everything is expensive, the food and beer. In fact, it is not true. Indeed, prices are maybe a little higher here than in most places in Munich; however, beer and snacks are superb. Those who want to try genuine Bavarian cuisine and outstanding beer should definitely visit Der Pschorr. Hacker-Pschorr Brewery's logo is the phrase «Himmel der Bayern» (Heaven of Bavaria). They apparently imply the heavenly delight from consumption of this wonderful drink. There are quite a lot of beers of the Hacker-Pschorr brand, perhaps a dozen. I usually order classic pale beer (Hacker-Pschorr Münchener Hell). For dark beer lovers, there is Hacker-Pschorr Münchener Dunkel. Sternweisse is highly praised by those who like wheat beer. Some, especially women, like Radler – beer mixed with pop. If you are lucky, you can watch the procedure of opening a beer barrel; actually, I have never seen this in any other restaurant but Der Pschorr. They bring a wooden barrel into the middle of the hall and hammer a tap into it. Quite an interesting spectacle. In Der Pschorr, they do not serve beer in one-liter mugs, and the patrons order traditional half-liter mugs over and over again. All beer is of high quality and delicious.
Bavarian Food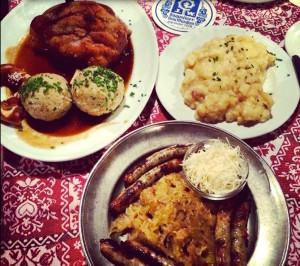 Bavarians love to eat. God forbid that the customer leaves not feeling completely full, so all portions are very large. We are not "native" Bavarians, but are still trying to follow the tradition. Our company usually starts dinner with soups, which are very good in Der Pschorr. I like the so-called goulash soup, slightly spicy thick soup with pieces of meat. Some guys do not deny themselves the pleasure to have Pschorr's specialty – a large bowl of beef broth with meat and noodles. Such a meal, in principle, is sufficient to feel full for the entire night. However, the evening is long, so how can I deny myself the pleasure to taste the trout (Saibling in German) fillet; this delicious fish is from Bavarian lakes. I have it on a regular basis here. Meat-eaters, on the other hand, enjoy beef steaks or fried pork, cooked according to old Bavarian recipes. For dessert, one can have German apple strudel. Prices for the main courses are within €17-30, which I find quite reasonable for the quality and quantity of food.
A few words about the environment in Der Pschorr. There are quite a few waiters and service is very fast. Tourists mostly fill the hall during the day, while in the evening local Germans come with their entire families. It is not as noisy in Der Pschorr is as in Hofbräuhaus, though it is still noisier than in a typical restaurant. After finally <sigh> leaving Der Pschorr, often close to midnight, it is nice to stay for a while on Viktualienmarkt and admire the surrounding lavish buildings illuminated for the night.
Spatenhaus an der Oper
Address: Residenzstrasse 12
Hours: daily 11 am – 1 am
Reservations: tel. +49 89 290 70 60
If you want to try the beer of Munich's oldest brewery, you need Spaten. Just imagine that people were drinking beer brewed by Spaten in the 14th century! It was almost a century before Columbus, and burghers were already sipping Spaten, for crying out loud! So this wonderful drink has more than 600-year history. And its taste has remained unchanged from time immemorial, for which we have to thank the Munich Beer Purity Law, also adopted several centuries ago.
You can enjoy Spaten beer in several brasseries in Munich. However, it is better to go first to the Spatenhaus restaurant on the Max-Joseph-Platz square in the Old Town. The restaurant occupies two floors in a building on Residenzstrasse, right across from the Bavarian State Opera, so you can drink your beer and enjoy the view. We came there a couple of times, and the halls were always full. It is better to reserve a table at least a day in advance, but you can try your luck impromptu.
Nowadays, the Spaten Brewery belongs to a large corporation, Spaten-Franziskaner-Löwenbraü Gruppe. Therefore in the restaurant, one can have other beer brands as well; for example, I like Franziskaner dark beer. Yet if the visitor wants to try various Munich's beers, why not order in the Spaten restaurant authentic Spaten beer, such as Spaten Münchener Hell? It is mild beer with slightly sweet taste due to the unique combination of hops and malt. By the way, the German word Spaten is not only translated the spade, but the spade for malt is also the ancient logo of the company. Just a couple of words about the restaurant proper. The food here is typical Bavarian, especially with regard to meat dishes: pork legs, sausages and so on. Nevertheless, I find their cuisine rather exquisite, they have many gourmet dishes. Portions are not always large, but the quality is always a priority. Prices are somewhat higher than average for Munich; the main course will set you back €25-35, beer – €9-10. The environment in the restaurant is very cozy and the service is top notch. It is in the most glamorous area of Munich, which is even more beautiful at twilight. The evening spent in the Spatenhause is almost always remembered as one of the best time in the city.
Share on: